Episode 3: John Hartness & Geekmas 2015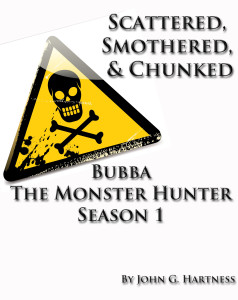 In this week's episode, we have our first ever special guest, author John Hartness.  You may know him as the writer of The Black Knight and Bubba The Monster Hunter stories. He recently released his own podcast, Literate Liquors, as well. You can find out all about him at www.johnhartness.com.
This episode, we discuss the following:
National Lampoon's Christmas Vacation (click here for the Rolling Stone Article)
The Interview and the Sony leaks
Into the Woods with Meryl Streep, Anna Kendrick and Chris Pine
Catnip Tea
The Doctor Who Christmas Special
Our Childhood Christmas Memories
The Separation of Helena Bonham Carter and Tim Burton
The First Zombie Nativity
Our 2015 Geekmas Christmas Poem  – can you find all 13 geeky references?  Email us your list of geekdoms at

[email protected]

for your chance to win a copy of John Hartness' ebook Scattered, Smothered and Chunked. Deadline to win is Sunday, December 28th, 2014 by 11:59 PM.
Guardians of the Geekery Episode 3

Things to Note: 
Someone remind us to tell Tiffany she's on a special assignment
We really are not responsible if you wreck your car while listening to our podcast.  Drive safely, but still listen!
Carol is the "pretty face of podcasting." For realz.
Crisco, mayonnaise, and butter are all great ways to seal in the moisture of your turkey.
John Hartness was asked to answer just one word or phrase, he never did that once.  Okay, once – when we asked him if his underwear was clean.
The editor of Rolling Stones is Jonah Weiner.
The Growing Up Skipper was released by Mattel in 1975. (see a demo below)
John Benton's most popular book is called Carmen, not John Benton.
Rule 34 — "If it exists, there is porn of it. No exceptions".    According to Rulesoftheinternet.com – Rule 32 is "You must have pictures to prove your statements."
We discussed Bernadette Peter's singing "Children Will Listen" which is from the Broadway version of Into the Woods – here is her performing it live at one of her concerts.